Intensive Travel Sketching Workshop in Valencia
Form 21st to 24th Octobre 2022
Founded in the 138 BC, Valencia is today one of the most important cities in Spain. Its Roman, Christian and Arab influences are reflected in the architecture and the atmosphere of the city and offer us some magnificent scenes to draw.
This workshop in Valencia is open to people wishing to learn or improve their drawing skills in Urban and Travel Sketching.
It also aims to discover Valencia with a creative and personal approach through drawing.
During this workshop you will learn to develop your sense of observation to depict a bit of everything that surrounds you in your sketchbook: traditional architecture, emblematic buildings and elements of a place, characters, street scenes, details…
We will remind in a playful way some fondamentals of drawing, such as perspective and composition, and we will learn to forget them occasionally to play with the spontaneity of our lines.
We will also explore complementary techniques to drawing such as collage, typography and watercolor.
Observation, experimentation and letting go will be emphasized.
This course will help you acquire the confidence and ease necessary to progress.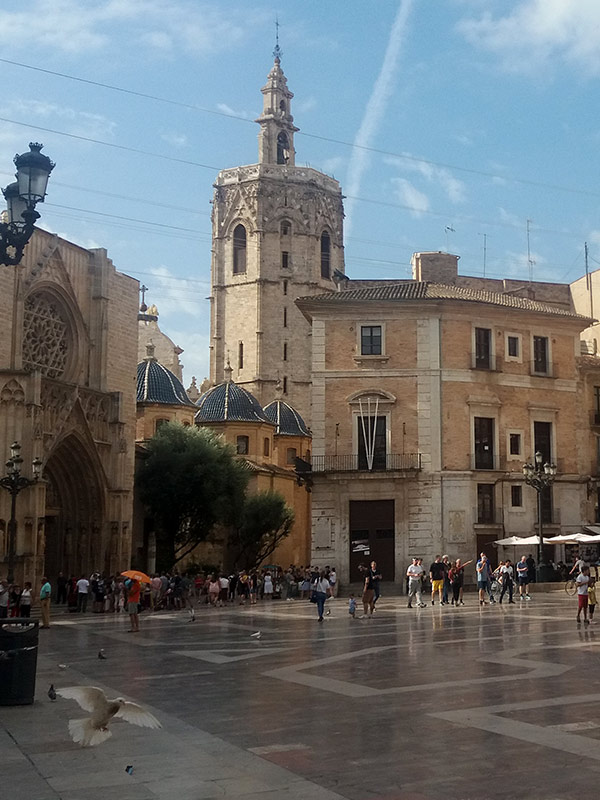 From 21 to 24 Octobre 2022
Time: from friday to sunday, from 10h to 17h30 (lunch break included)
Monday: from 10h to 13h
We will send information regarding meeting point for the 1st day by email.
Lunch: Free to anable participants to rest

Diner: Free
Transport: we will mainly walk from place to place, and occasionally use public transport.
Sketch-barcelona reserves the right to cancel this workshop in case of not reaching a sufficient number of registered participants.
We will send the payment details by email.
How the workshop is planned
I have planned the workshop so that all the participants can manage their budget as they wish, choosing the mode of transport or accommodation that best suits them.
We recommand that the participants arrive the latest the day before the workshop.
Every day we will meet at 10am in a different place in Valencia. We will draw outside all day long if the weather is ok. We will get inspired by different themes: buildings, people, a street atmosphere, details…).
We will have lunch together the first day of the workshop to get to know each other better, and the other days, each one is free to eat alone or with other participants. The workshop will go on after lunch until 5.30pm.
Important to highlight
– Small group workshop (approx 10 people).
– It is necessary to register in advance.
– Classes can be taught in Spanish, English and French.
– The price only includes the pedagogical part.
Are not included: transportation, accommodation, meals, museum tickets, extraordinary expenses, nor material.
– We will dedicate our time to learning urban sketching. We will not have time for touristic visits.
– No obligation to eat together during the workshop, although we propose to have lunch together the first day to get to know each other better.
– We will travel mainly on foot and occasionally by public transport.
– Sketch Barcelona reserves the right to cancel the workshop if the minimum number of participants has not been reached, or due to Force Majeure.
– Our Force Majeure Policy does not cover travel problems due to COVID-19.
Practical aspects for before the workshop
Flights. There are direct flights to Barcelona from the main European cities.
Insurance. You can take out travel insurance to handle the practical aspects of the trip: flights delays or cancellation, theft and robbery, accommodation problems, illness or cancellation. Sketchbarcelona will be responsible only of the teaching part.
Accommodation. You can book an accommodation through pages such as Booking.com, Trivago, Airbnb … It is better to choose an accomodation in the centre of the city, or that it is well connected (bus, train or metro).
Folding chair or stool. I recommend you bring a folding stool to be able to sit anywhere and draw comfortably. The floor can be dirty or damp. You can find them in Decathlon or Amazon, in the hunting and fishing section.
Please consider preparing a list of important contacts in order to manage travel risks or specific needs.
For example:
Address and telephone number of the Consulate of your country of residence.
Health insurance abroad, travel insurance if you have one, (accommodation, means of transportation, loss or theft of personal property, etc)
Details of your bank in case of loss or theft of your credit card
Suscribe to my newsletter!​