Travel sketching workshop in Barcelona
Everybody can draw!
In this workshop we will discover tips and resources which will help you to start or improve your skills in Urban Sketching.
I will guide you in this experience alternating demonstrations and recreational exercises which will help you aquire the ease and confidence necessary to progress.
Likewise we will experiment in a playful way with the work of the line and colour, perspective and composition of our pages.
Loosing the fear of making mistakes we will learn to draw everything: architecture, street environment, human figure, vegetation, details, etc.
Observation, experimentation and letting go will be emphasized.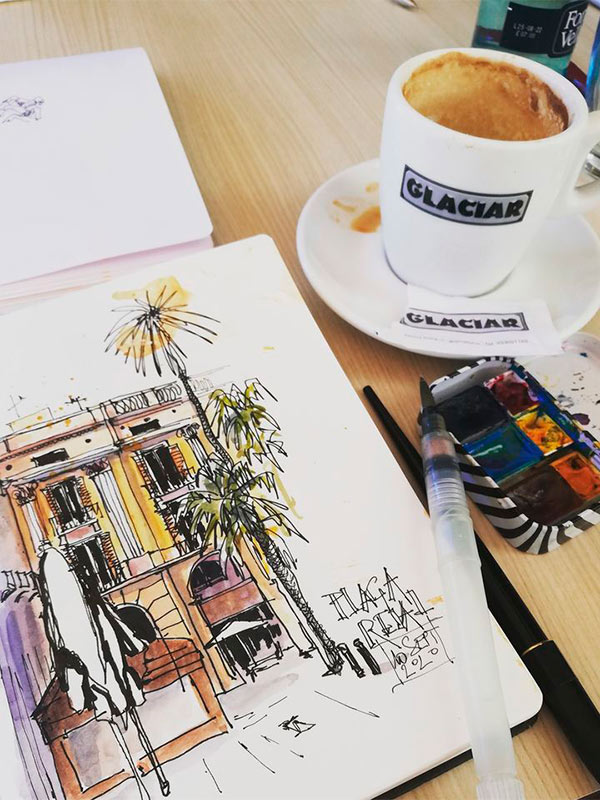 Each sunday  we meet in a different place in or around Barcelona.
During 3 hours we learn to draw the world around us in our sketchbook.
Sketch-barcelona reserves the right to cancel this workshop in case of not reaching a sufficient number of registered participants.
Contact us for more information or to sign up.
Please consider preparing a list of important contacts in order to manage travel risks or specific needs.
For example:
Address and telephone number of the Consulate of your country of residence.
Health insurance abroad, travel insurance if you have one, (accommodation, means of transportation, loss or theft of personal property, etc)
Details of your bank in case of loss or theft of your credit card
Suscribe to my newsletter!​