You have decided to learn
Urban Sketching and don't know which materials to use?
You will find below the materials I recommend, a bit of everything, without exagerating. Avoid taking too much materials, we often use the same sketching tools when we draw.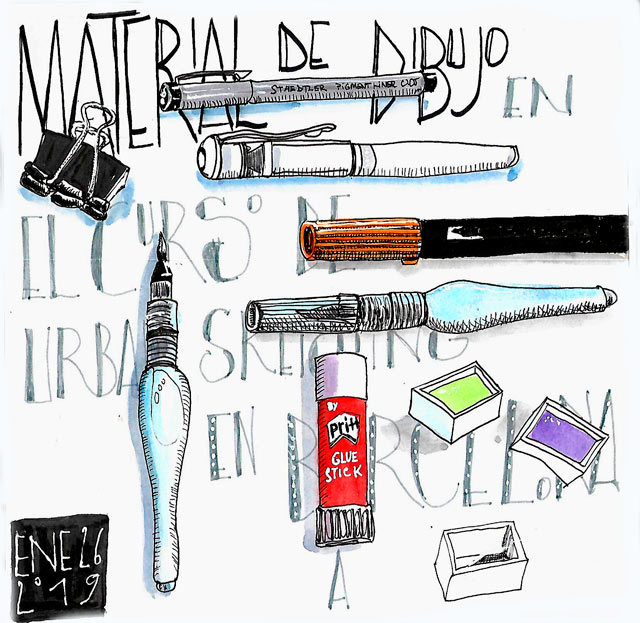 Recommended sketching tools
– A5 sketchbook with paper which can support watercolor o mixed media.
Brands: Hahnmühle, Fabriano, Canson, Daler Rowney

– A calibrated 0,2 and o,8 black waterproof fineliner, Brands: Micron, Staedtler, Unipin, Faber-castell…
– and another color, or a Bic 4 colors ballpoint pen.
– A pencil and eraser

– White  gel pen
Brand: Uniball Signo broad 
– A waterproof Black Brush Pen
Brands: Micron, Unipin, Faber-castell…
– A grey marker brush Tombow, nº79, or, Faber-Castell Brush warm grey nº272
– A watercolour kit with basic colors.
Avoid cheap watercolour and use known brands such as Windsor&Newton, VanGogh, Sennelier, or Schmincke for example.

– A waterbrush pen,  and tissue.
– A set of watercolor color pencils, with basic colors
Brands: Caran d'Ache, Faber-Castell, …

– Paper clips (for windy days)

– A folding stool, the ground might be wet or too dirty to sit on.
Suscribe to my newsletter!​
Some fine art materials shops in Barcelona:
Barna Art, Calle Córsega 394, 08037 Barcelona

Casa Piera, Calle Pintor Fortuny 21, 08001 Barcelona

Art Hilgard, Calle Asturies 48, 08012 Barcelona

Artcants, Encants Barcelona, Plaza de las Glorias.
Posts about sketching tools
Many of you ask me what are the colors I use when I paint with watercolor? When I talk about painting with watercolor, I mean …
When drawing, you don't have to always use black ink. do not hesitate to explore your materials and experiment with your color pens and pencils. …
Those who draw outside know the importance of the weight of the material when going out to sketch. Often the stools found on the market …