Travel Sketching Workshop in Essaouira
From 12 to 19 November 2023
From 19 to 26 Novembre 2023
ESSAOUIRA, the ancient city of Mogador, is one of the most beautiful towns on the Atlantic coast of Morocco. Its history linked to Rome and Portugal, as well as its Islamic essence, makes this place a point of cultural miscegenation whose result invites mixing, tolerance and creativity.
This Travel Sketching workshop in Essaouira is open to people wishing to learn or improve their drawing skills in Urban Sketching.
During this workshop you will learn to develop your sense of observation to depict a bit of everything that surrounds you in your sketchbook:
Bbuildings and emblematic elements of Essaouira and town and places near to Essaouira, characters, market scenes, animals, arquitectural details…
We will remind in a playful way some fondamentals of drawing, such as perspective and composition, and we will learn to forget them from time to time to play with the spontaneity of our lines and color.
We will also explore complementary techniques to drawing such as collage, typography and watercolor.
Observation, experimentation and letting go will be emphasized.
This course will help you acquire the confidence and ease which are necessary to progress.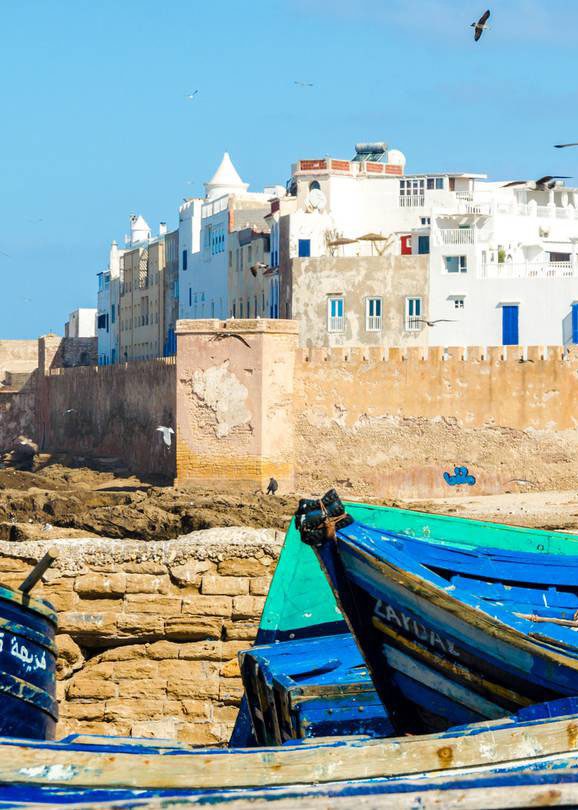 From 12 to 19 November 2023 / 19 to 26 Novembre 2023
8 days / 7 nights

Arrival on November 12/ November 19 in Marrakech, reception of the students by our guide Yacin. Collection of the group at the airport and departure to Essaouira by minibus. Brief stop along the way if the weather allows it to release our notebook.
Departure on November 19/ Novembre 26 for Marrakech in the morning. Flight back from Marrakech.
Sketch-barcelona reserves the right to cancel this workshop in case of not reaching a sufficient number of registered participants.
We will send the payment details by email.
The price includes only the pedagogical part.
Please provide an additional budget for consomption in bars and museum tickets.
Send me an email to register:
contact@sketch-barcelona.com
How is the workshop planned?
12th of November/ 19th Novembre
Arrival in Marrakech, reception of the students by our guide Yacin. Collection of the group at the airport and departure to Essaouira by minibus. Brief stop along the way if the weather permits to inaugurate the notebook.
From November 13 to 18, / from November 20th to 25th a circuit is organized, in Essaouira and some  towns and beach areas nearby, where we can discover colorful and unique towns and landscapes, through drawing and color, and other techniques, such as collage, lettering etc
Transportation is included in the price.
November 19th/ Novembre 26th
Departure to Marrakech in the morning. Return flight from Marrakech.
The participants should arrive in Marrakech on November 12 in order to go to Essaouira together by minibus.
Accommodation, meals and internal transfer by minibus included in the price.
Sketching circuit organized by Morocco-Ecotravel:https://morocco-ecotravel.com/sketch-barcelona/
Important
What does the price include?
The price includes:
• Workshop of around 40 hours of drawing spread over 6 days for a maximum group of 15 people.
• Full board accommodation in a double room, shared with another participant.
• Airport / hotel transfers
• Trips in a 17-seater minibus with driver
• Moroccan tour guide in some places of interest
Price does not include:
• Return flights to Marrakech
• Alcoholic or soft drinks taken during meals; only mineral water is included.
• The single room supplement (€150)
• Registration and expenses Companion
. drawing material
This is a workshop for a small group (approx 12 people).
– It is necessary to register with time.
– Spanish, English and French spoken.
– The guided tours of some of the places we visit are made in French.
– Sketch Barcelona reserves the right to cancel a trip if the minimum number of entries has not been reached or due to Force Majeure.
Practical aspects for before the trip
Insurance.
I recommend you take out travel insurance to manage the practical aspects of the trip: flights, theft and robbery, accommodation, illness or cancellation. Sketch-barcelona will only be responsible for the pedagogical part.
Accommodation.
Included in the price.
Please consider preparing a list of important contacts in order to manage travel risks or specific needs.
For example:
Address and telephone number of the Consulate of your country of residence.
Health insurance abroad, travel insurance if you have one, (accommodation, means of transportation, loss or theft of personal property, etc)
Details of your bank in case of loss or theft of your credit card
Suscribe to my newsletter!​
Other workshops that might interest you