New start for the creative challenge Inktober 2021
Feel like practicing Urban Sketching in Barcelona? The famous Inktober drawing challenge is back. Open to all, this international event is held from October 1 to 31. To your pens!
31 days, 31 drawings, this is the concept of Inktober. Launched in 2009 by Jake Parker, the challenge has become an institution over the years. Today, thousands of people participate in this artistic challenge around the world. Inktober is the perfect place to start sketching a trip to Barcelona. October 1 marks the official kick-off of this event.
Inktober, a challenge to develop your creativity
During the month of October, artists can draw a variety of works, depending on their inspiration. Inktober was not created to elect the best talent or to compare them with each other. The objectives remain to challenge oneself to acquire new artistic habits, stimulate one's creativity and improve one's pencil stroke.
Everyone can give their advice and draw ideas from the proposed drawings. Exchange and sharing remain Inktober's watchwords. The challenge specifies that all participants can go at their own pace, posting every day, every other day or once a week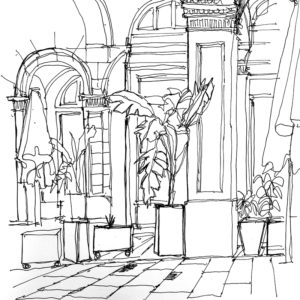 A challenge open to all
If Inktober appeals to the four corners of the globe, it is in particular thanks to its positive philosophy. Anyone can participate in the challenge, regardless of their level, age or country of residence. Beginner in drawing, professional in an artistic field or artist in his spare time, there are no limits.
To participate, it's very easy ! On its official website Inktober indicates four stages:
1. Make an ink drawing (it is possible to make a pencil drawing beforehand);
2. Post it on social networks or post it at home, the main thing is that the drawing is seen! Facebook, Instagram, Twitter, it's up to you to choose your favorite platform;
3. Use the hashtags #inktober and # inktober2021 on the post;
4. Repeat throughout the month of October.
Inktober specifies that both traditional and digital designs are welcome.
The 2021 themes
The challenge offers several themes, not compulsory, to inspire participants. They can follow them out of order.